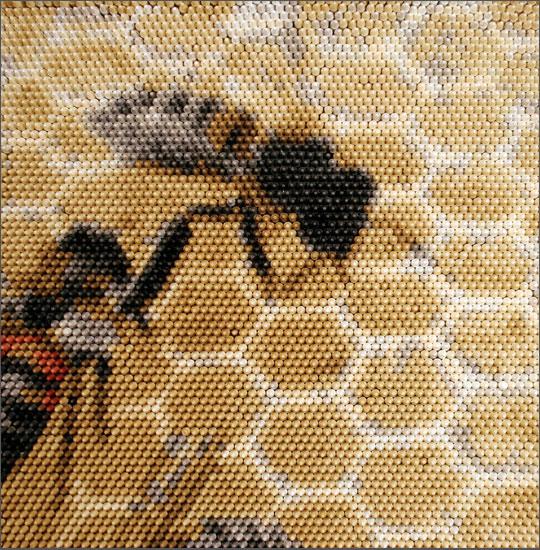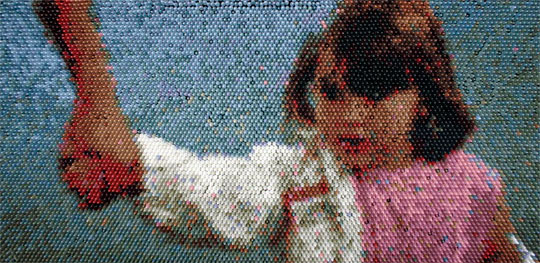 Artist statement:
For this body of work I have assembled more than one hundred thousand hand cast crayons of varying colors and shades to produce a body of work that, to the best of my knowledge, is unlike anything done before in art. These individual "pixels" of wax are precisely stacked into specific locations inside of wooden frames to produce a new art form that uniquely balances the qualities of both photography and sculpture. Further, I have developed a mapping system that translates the English alphabet into twenty six discrete colors and I use these crayon "fonts" to add words and language to each of the pieces in the show.
The product is a series of photorealistic landscapes and figurative images that are formed at the surface of the thousands of tightly packed crayon tips. The imagery that makes up this new body tends to focus on isolated elements represented as children, barns, water towers, etc. withinin determinate landscapes, which are intended to reference the individual crayon whose solitary existence, like that of the individual element, is rendered obsolete in the amalgamate. The direct representation of language in each piece further imbues the works with meaning and brings an aspect of color into each composition reminiscent of DNA coding. The alphabetic key at the lower left of each panel allows the viewer to interpret the individual words written throughout the various panels."
I was more than intrigued by this tremendous artist and felt a kindred soul in that he loved encaustics, bees, and photos... those 3 things were such a part of my soul that he had to be an artist that I wanted to explore more. I went to this site which I have linked in the title and above and hope you will be intrigued as I was to expore more of this wonderful man's work!
I felt compelled to write to him and tell him my background and gave him a link to my blog and asked if I could feature him and he said yes which I thought was kind of him. So go visit this site and see how he has taken everything just a step beyond many other artists which I admire the most!
He also has a wonderful shredded paper series.. oh what the heck check it all out!
I love love his quote from Frank Lloyd Wright,"--Each material has its own message-- Frank Lloyd Wright (1928)".